Stage curtain drop machine is special for auditoria and vocal concert curtain-up system, it is more series-wound use, controlled by power or DMX 512 control. The suspend stage screen can moment drop quickly, to create mysterious ambience.
Application:
Home, Stage, Ballet theatre, Studio, Multifunctional auditoria, Show plaza, Department auditoria, Entertainment center, Disco night club, Bar, Kala OK hall, Family party etc.
Hang up the cloth (backdrop).
You do this by sliding the rings in the cloth over the drop pins and then locking the pins by pushing them upwards.
Once you have hung up the cloth your Power Drop system is ready for use.


Controller distance:
Suggest 1m-1.2m between 2 machines.

Take the width of your cloth or object that has to be dropped and determine where the first and last Power Drop have to be suspended.Place the other Power Drops between the first and last Power Drop with a spacing measurement of about one meter. This prevents sagging and provides enough stability.
DMX channels information:

Channel 1= open (the machine clamp will open 1 second directly)
Channel 2= open time (maximum time is 3 seconds)
*we suggest customer push channels 2 from 0-255 firstly. Then push channel 1 again. If no open successfully. Then push channels 2 to 255 and push channel 1 again.
*standard packing way is carton box. 10in1 flight case is optional.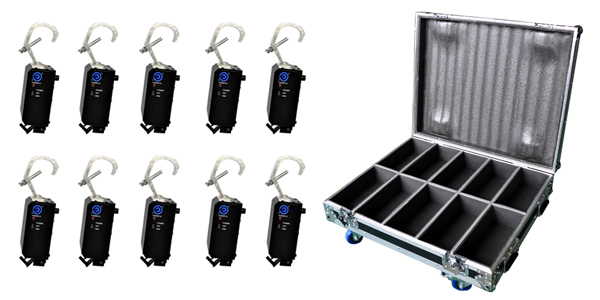 Install the power drop machine in place,hang stage screen in the machine hook,connect power cable.
this machine divided into power and DMX512 two control mode,if choose power control please pull out switch in POWER this place, if choose DMX control please pull out switch in DMX this place.DMX is one channels.this machine can in series more machine work in double harness screen drop after,the machine hook become downfall orientation,if need to use again,please shall machine hook replacement by manual